The City Sightseeing tour of Corfu offers the perfect way to see the sights and sounds of the city. See and hear Corfu's history and experience the famous sights and monuments aboard our double decker buses, which will pick you directly on your cruise terminal. Our daily ticket gives you the flexibility to explore all the bus stops at your leisure and at your own pace.
Highlights
Access to 2 bus tours routes & 10 stops around Corfu. Create your own itinerary to explore the Island.
10% Discount for your next Hop-on Hop-off
Multilingual audio commentary. 8 languages available
24h Unlimited Hop-on Hop-off bus tour with 360-degree panoramic views of Corfu Island.
Flexible 3-month ticket
Schedule: 09:00 - 19:00
Loop: 60 Minutes
Frequency: 15 Minutes
Kanoni - Hotels: Hellinis, Royal, Ariti, Holiday Palace
Book your ticket now
Important information
Know before you go
The Achilleion Palace Museum is closed, however, the outdoor-open spaces and the imperial gardens are open
With your voucher, enjoy flexible access for up to 12 months from the travel date you select at check-out
The Kanoni Route operates from 9:00 AM-5:00 PM (from June-September till 6:00 PM) every 15-20 minutes with a duration of 60 minutes
The Achillion Route operates from 9:30 AM-1:30 PM every 60 minutes with a duration of 90 minutes
On days when a cruise ship is in port, only the Kanoni Route will be operational
Additional Information
There are so many things to see within the city of Corfu on our open top buses. Hop-on to one our bus tours as soon as you arrive to Corfu on your cruise and we'll take you straight to the best sites of the city! After you board the bus at Corfu New Port, we'll be on our way to Kanoni Hotel at Bus Stop 2. Here there are lots of things to do and see. Why not go for a spot of shopping in the local shops? Or grab a bite to eat! Be sure to try the local traditional cuisine, such as "sofrito", "pastitsada", "bourdeto", and wash them down with local award-winning beer or wine or the local refreshment "tsitsimbira."
Next up at Bus Stop 7 is Spilia Square, where you'll find the new fortress of Corfu so relax, unwind, and take a leisurely stroll along the grounds to enjoy the magnificent views of the Old Town. The Old Town has been a World Heritage Site by UNESCO since 2007 and its unique architecture and a plethora of Venetian and Anglo-French elements, puts it at the centre of Corfu's heritage. 
Last on the agenda is Old Port at Bus Stop 8 where you can soak up the sunshine and enjoy the sea breeze! Get your ticket online today.
Know before you go
Customers will find the City Sightseeing Corfu buses at: Corfu New Port – Main Gate.
The tour departure point is 100m away from Cruise Terminal building exit. Customers will see the City Sightseeing Corfu staff outside of the buses. They also have an office located at Cruise Terminal Building (Office 5).
Operational Season: All Year Round
Except on: 20 December – 21 January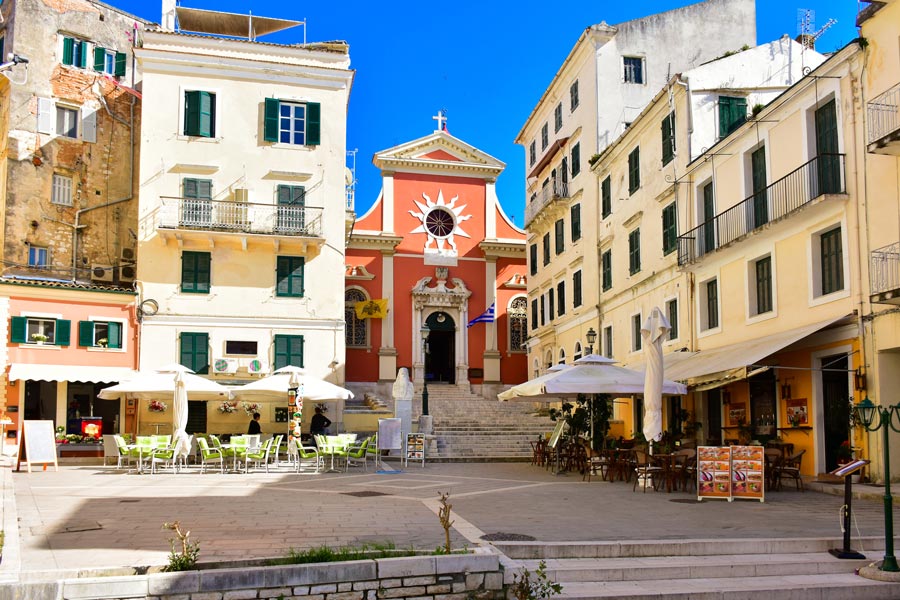 3 Must-See Hop-off Attractions
If you don't have much time to explore Corfu to the fullest, then don't worry! We recommended that you hop-off at these 3 very special attractions. First up is Corfu New Port at Bus Stop 1, enjoy the seaside views before we pick you up at this stop and begin the journey! One must-see attraction is Spilia Square at Bus Stop 7, a pretty square with lots to do! Nearby is the church of Tenedos and an old Greek fortress that you can explore around. At Bus Stop 8 you'll get to experience the ambiance of the famous Old Town, just off the coast of the Adriatic Sea.
Create Your Perfect Combo
Why not complete your Corfu experience by choosing from a range of extra activities available? You'll see a list of all the things you can do at the check-out page online as you purchase your Hop-on Hop-off ticket! Buy your Hop-on Hop-off ticket along with an extra activity entrance ticket and you'll save yourself up to 20% with our combo savers!
Ideal for Cruisers
Are you arriving by Corfu on a cruise ship? Well then this Hop-on Hop-off bus tour around Corfu is the perfect trip for you! Just hop-off your cruise ship on arrival and hop-on to our red open top buses, you'll see them straight away! We'll pick you up at Corfu New Port by the Main Gate. The tour departure point is only 100m away from the Cruise Terminal building exit. Our staff members will be waiting for you! For more information, you can visit our office located right at the Cruise Terminal Building, Office 5.
Book your ticket now
Important information
Know before you go
The Achilleion Palace Museum is closed, however, the outdoor-open spaces and the imperial gardens are open
With your voucher, enjoy flexible access for up to 12 months from the travel date you select at check-out
The Kanoni Route operates from 9:00 AM-5:00 PM (from June-September till 6:00 PM) every 15-20 minutes with a duration of 60 minutes
The Achillion Route operates from 9:30 AM-1:30 PM every 60 minutes with a duration of 90 minutes
On days when a cruise ship is in port, only the Kanoni Route will be operational